I am hosting a giveaway with Hadar of Miss Kindergarten! Hadar recently won a personalized stamp from my web store, Polka Dot Parlor.
I was thrilled that she won since she is a fellow teacher blogger! Of course, she customized her stamp to use in her classroom! She ordered the "Daisy" stamp and had it personalized to say "From the Library of Miss Maor." It turned out so cute… I might have to order one for myself!
Hadar asked if we could give away a stamp on her blog and of course I agreed! So, head on over to her blog for your chance to win your own personalized stamp! This giveaway will end on Saturday, November 5th! Good Luck!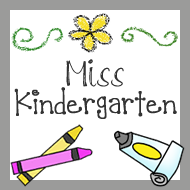 In the mean time, if you feel like shopping please use coupon code TEACHER at checkout to receive 10% off your purchase. Coupon valid until 12/31/11.